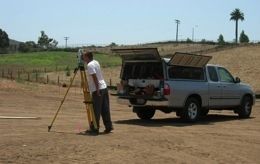 Rancho Coastal offers all phases of surveying including boundary, topography and construction staking. With the addition of a state of the art Leica robotic instrument, clients greatly benefit from an increased efficiency in the field. This not only results in a cost benefit for the builder but can also significantly expedite a project's timeline using only a one man crew.
Jacob D. Logan, is a licensed Professional Land Surveyor (PLS) brings nearly 15 years of professional surveying and development experience to the core team at Rancho Coastal. Jacob works consistently with Architects and Contractors. He performs Property Surveys, Construction Staking and all surveying needed in a project. Jacob is also very proficient with AutoCAD. The survey department is a very efficient component of Rancho Coastal Engineering. Proficient with not only traditional survey methods, but also uses our own, state of the art, GPS and robotics.
Jacob Logan, is Rancho Coastal Engineering & Surveying's PLS and performs one-man surveying services using advanced robotic equipment. This enables RCE to get the job done quicker and with a more consistent and accurate level of precision for your surveying needs.
Badger – 3 lot residential development, Vista
Casa Sueños del Oro – 7 lot residential development, Escondido
Hamilton Estates – 7 lot residential development, Escondido
Numerous Record of Surveys
Numerous Final Parcel Maps